Written by Jaymi Naciri
Chic, iconic, and surprising, log cabins are one of the hottest trends in homebuilding, with amazing examples of craftsmanship standing all around the world. Some of today's most inspired log cabin designs are in unexpected places, while others command attention from a mountaintop while showcasing views that are nothing short of amazing. Either way, the log cabin attaches its own unique sense of history and architecture.
"The cabin is an icon. Think of the legendary mountain man Jeremiah Johnson building his own home in the Rocky Mountains, or the teams of lumberjacks that once shared a meal after a long day of work in the forests of Eastern Canada," said
Digital Trends
. "The log cabins built by those settling the Oregon Trail were the symbols of a life on the edge of the frontier, and as far back as the Viking age, the massive wooden structures were the centers of family and community life. Even today, cabins evoke a sense of comfort and freedom, representing a refuge from the stresses of modern life and serving as a symbol for shelter against the harsh elements of nature."
Check out these inspiring log cabins, ranging from traditional looks to modern adaptations.
Who says that just because the word "cabin" is in the name that it has to be small? "Timber Moose, this enormous fortress-like cabin, is the largest privately owned cabin in the US. It features a swimming pool, massive kitchen and dining areas, a crow's nest, and enough room to accommodate you and 60 of your friends," said Digital Trends.

Digital Trends
Not quite your thing?  How about this historic property? The Granot Loma is on 5,000 acres of Lake Superior waterfront in Marquette, Michigan and is listed for $40 million.

Wide Open Country
Natural materials and a stellar location combine for this luxury log cabin on an island on Whitefish Lake in Montana.

Luxury Log Cabin Homes
A twist on the traditional log cabin, this home uses side-by-side planks and extensive windows to bring in the view.

Madisonal Magazine
In this log home loft, a sophisticated yet urban industrial feel emerges.

Home to Décor
This modern log cabin presents shades of Frank Lloyd Wright.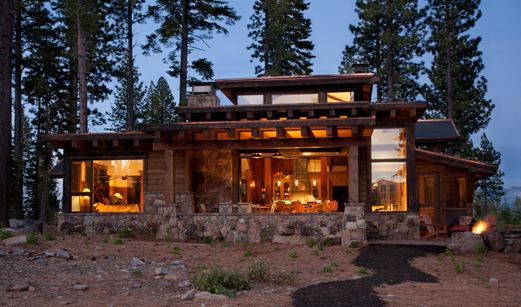 The A Position
Even celebrities have gotten in on the trend. This 4,500-square-foot cabin on 35 acres in Wisconsin belongs to NFL star J.J. Watt.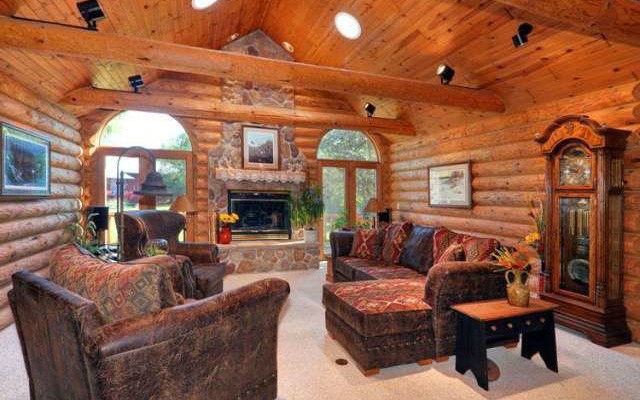 CBS Sports
You don't have to move to the mountains for a log home. This one was built for about $50,000 in the middle of Philadelphia in the 1980s, and is "now swimming in a sea of pricey warehouse conversions and tidy brick rowhomes," said
Philly.com
.

Curbed
Get the look:
With their rustic charm and abundance of natural wood, it's no wonder that log cabins tend to have a cozy, inviting feel. You don't have to deck your home out in logs to get that same warmth. Whether you live in an urban or suburban neighborhood, you can recreate that log cabin style in your own home by making a few key changes.

HGTV
Think rough-hewn wood used on tables or floors, paneling on walls, plaid and other ruddy textiles, and of course, taxidermy. Not feeling the dead animal thing? Go faux. These days, you can mount just about anything on your wall or create a cool chandelier without harming a single hair on an animal's head.