Written by Jaymi Naciri
HousingWire recently ran a story about the San Francisco home used on the Full House series, which is now valued at seven times the original price – not surprising since the City by the Bay has some of the highest real estate prices in the nation.
"Real estate agent, Regine Familet, estimated that due to the home's location in a prime area in the Lower Pacific Heights neighborhood and because of the city's notoriously inflated market, the house is easily worth $3 million," they said. The original value of the home in 1987, according to the article, was $441,929.
It got us thinking about a few other famous TV and movie houses. Think you can afford to live in one? You might be surprised.
Friends
The building Monica, Chandler, Joey, and Rachel lived in on Friends was located at 90 Bedford Street in Manhattan's West Village, according to Hooked on Houses. The familiar exterior brings you back, doesn't it.

Hooked on Houses
A studio apartment was recently listed in the building for $2,300 and a two-bedroom for $2,895. If they were offered for sale, Thrillist says they'd go for $2 million (Joey and Chandler's place) and $2.5 million (Monica and Rachel, and, eventually, Monica and Chandler's, place).
The Brady Bunch
One of the most famous TV homes of all time was featured on the Brady Bunch. Even though the show went off the air in 1974, it lives on in reruns, and fans young and old continue to visit the North Hollywood home on 11222 Dilling Street where the show was filmed.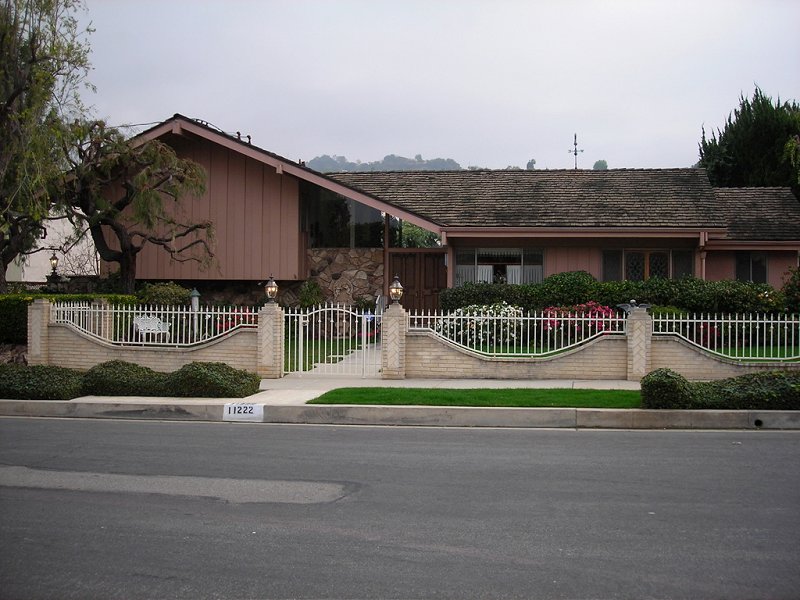 I am not a stalker
Want a crack at owning the five-bedroom home? You may have to wait awhile. The home is currently valued at around $1,5 million, and "has not changed hands since February 1973, when it sold for a mere $61,000," said
Thrillist
.
Beverly Hills 90210
Dig the Spanish-style home where Brandon, Brenda, and the rest of the Walsh family lived? The four-bedroom, three-bath home is located in Altadena (near Pasadena and Hollywood). If this house was located in Beverly Hills, you could be looking at anywhere from $3–6 million. But in Altadena, it's a steal at $1,454,845. You can check out the interiorhere.

Los Angeles magazine
American Horror Story
Think it might be cool to live in a house of TV horrors? Turns out the home's owners did too. Following the first season of American Horror Story, the asking original asking price of $4.5 million was raised to $17 million, according to Curbed. The eventual sold price: $3.2 million.

People
Sex and the City
The apartment building at 245 E. 73rd Street, between Park and Madison, in New York is such a tourist draw that a rope was added to the outside stairway to discourage selfie takers and visitors. Why? It's where Sex and the City was filmed.

Pinterest
"Carrie Bradshaw's apartment in Sex and the City might as well be the fifth main character. While it was supposedly a small rent-controlled Greenwich Village apartment, the brownstone facade used for filming actually contained a much grander apartment – which hit the market a couple of years ago for a whopping $9.65 million,"
said PopSugar
. "We're pretty sure Carrie's columnist salary wouldn't have been able to purchase the stunning five-bedroom, three-bath, 4,000+-square-foot home, but that's part of the fantasy, right?"
Seinfeld
The New York apartment in which Jerry Seinfeld lived on his namesake show is described as being in a "Pre-war boutique building (only 20 units). Walk up, common laundry, no doorman, located off Columbus Avenue," said Thrillist. Located at 129 West 81st Street on New York's Upper West Side, its worth is approximately $900,000.

Moviehole
Ferris Bueller's Day Off
Famous TV and movie houses aren't only in L.A. and New York. Remember the ultra modern Highland Park, IL house where Ferris Bueller's best friend, Cameron (and his father's prized sportscar) lived? "The home is sweet – if you like mid-century Modern eccentricity, you're ready for a renovation, and you don't mind tourists in your driveway," saidChicago magazine.
Parade
The home was listed in spring of 2009 for $2.3 million and was taken off the market in 2011. It was relisted in 2013 for $1.5 million with a "new marketing plan: Emphasize the home's architectural pedigree, and de-emphasize the 'Where Ferris and Cameron Kill the Car' angle," they said. The home finally
sold for $1.06 million in 2014
.
Gone Girl
The Cape Girardeau, MO house at 3014 Keystone Drive where some pretty twisted stuff happened could be yours for $559,528. Hopefully the neighborhood where this five-bedroom, 4,413-square-foot house is located is better kept today than it was in the movie. "To make the Dunnes' new neighborhood appear riddled with financial crisis foreclosures, the real life neighbors of the Gone Girl house were asked to stop mowing their lawns during filming, said mental floss.

mental floss