Written by Jaymi Naciri
Nearly everyone has a kitchen island or breakfast bar today. The stools you choose can complement your décor, pump it up, or even create an eyesore. But with so many options, it can be hard to choose the right ones. Even the experts are challenged by this integral piece of furniture.
"Here's a confession: It's taken me seven months to find the perfect barstools for my soon-to-be-renovated kitchen," said famed designer Vern Yip on
HGTV
. "The decision is a lot trickier than choosing chairs for a table. Since barstools are taller and your feet don't rest on the floor, a comfortable seat is key, as is a foot-support bar at the right height to avoid awkward leg dangling. Other things to consider: Round or square? Swivel or stationary?"
And don't forget material, color, and pattern. Here are some tips to making the best choice when buying barstools.
The right height
The first thing you need to do before making a purchase is identify the height of your countertop. "'Bar stool'" is an overarching term that refers to stools that come in three primary heights: counter, bar and spectator (sometimes called stadium)," said Houzz. "Counter stools…are designed to be paired with a standard-height counter, which is 36 inches tall. So a counter stool's seat ranges in height from 24 to 26 inches."
Counters may vary slightly in height, so be sure to measure. Yip's recommendation for how to size your stools: "For comfort, aim for 11 inches — so if your counter is 36 inches high, choose a stool that's 25 inches high," he said. "For a 42-inch breakfast bar, you'll need one 31 inches tall."
Comfort
How often will you be using your bar stools? Are they for the occasional sit-down or do you envision kids sitting at the counter doing homework? The more you intend to use them, the more sturdy and comfortable you'll want them to be.
These chic counter stools offer comfort and style, and the shape provides some support to help kids stay in place.

Livinator
Consider sightlines
If one of your top considerations is creating function without interrupting the open sightlines of your home, a backless stool might be at the top of your list. Their ability to tuck under the counter makes them a favorite of today's buyers. But, keep in mind you may not get the comfort you need. "A backless stool looks sleeker and less bulky, but if you're going to use the stools regularly for eating, you'll be happier with a backrest," said HGTV.
These counter stools have a low back that provides some support while keeping the sightlines open – key for today's open floorplans. They also swivel, which helps them function in a tight space.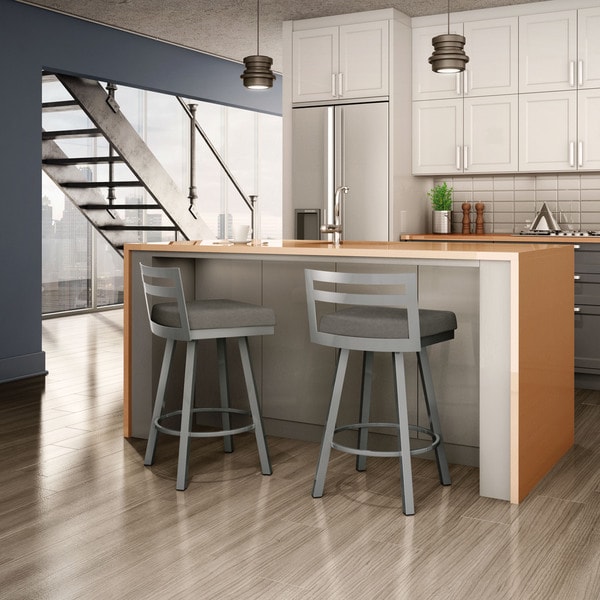 Overstock
Make a statement
When choosing bar stools, why not kick it up a notch? This Palm II barstool from Allan Knight features a lush upholstered seat and an acrylic base and legs – perfect for the contemporary home.

Allan Knight
The right barstool can continue your color story with a subtle pattern.

Apartment Therapy
Or it can inject color, pattern, and whimsy.

Pinterest
It can also add a layer of texture that makes your kitchen even more stunning.

S+S
This
orange barstool
hits on several levels: the color is a standout in every space (although it is offered in the more sedate colors of black, white, and silver), the metal is a current trend, the retro style gives it classic appeal, and the adjustable nature allows it to work for several counter heights. Even better: it's affordable at just $79 from Walmart.

Walmart
Choose the right material
Selecting a stool with a mix of materials can add another element of interest to your space. "Mixing materials…creates another look that will readily work in a myriad of styles," said Houzz. "Mixing materials is a time-honored method of bringing comfort and warmth to decor."

Furniture Fashion
Another take on acrylic, this art deco barstool uses a smoked finish on the seat with chrome legs.