Written by Jaymi Naciri
Whether you're investing in drapes as your main window covering or simply looking to add a decorative element to frame out your windows, there are a few tips to getting it right.
Length
Today, there is only one modern options when it comes to drapery length: your drapes have to be long enough to at least hit the floor instead of stopping short.
"You'll get the most current look if the fabric makes contact with the floor (or sill or radiator)," said Real Simple. "Too-short curtains can seem nerdy and off, like high-waters."
 From there, several options allow you to customize the feel you're looking for.
Just hitting the floor – This look is "classic and tailored," said Real Simple, and "makes sense if you'll be opening and closing the curtains a lot (they'll easily fall back into place every time you move them)."
Breaking slightly at the floor – The most current trend in drapes is the one that has a few inches of give after hitting the floor. This look can be both elegant and casual, and is probably best suited for spaces where there isn't a ton of activity since the fabric could get caught in doors or easily get dirty and dusty.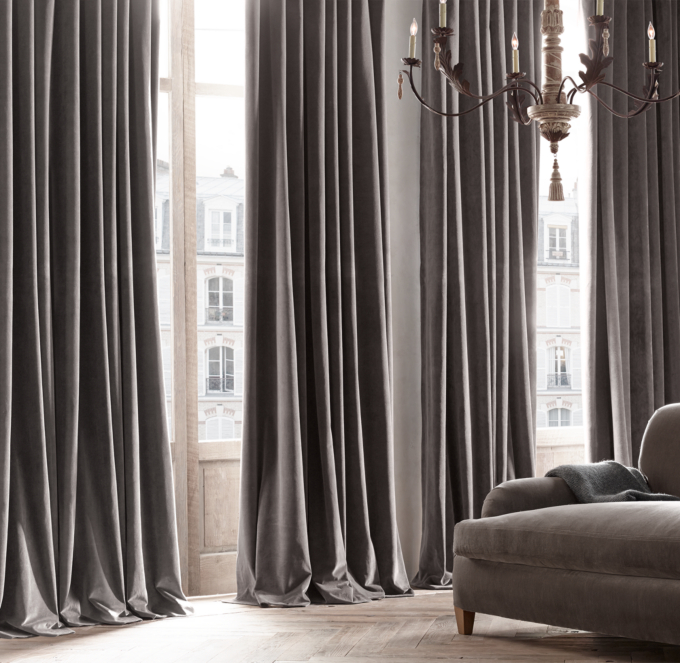 MoveSmart
Exaggerated pooling
– Want to create old-school elegance in a formal space like a dining room? Six inches of fabric pooled on the floor "can look romantic," said Real Simple, "but is also high-maintenance; curtains need refluffing every time you vacuum or the cat lies on them."

aflairforvintagedecor
When it comes to how high to hang drapes, conventional wisdom says: at the top of the window. But experts recommend raising the height – all the way to the ceiling, where possible – to create the illusion of high ceilings where needed.
Fabric
If you're going to the fabric store to choose material for custom drapes, you may be overwhelmed by what's available. Color and pattern will probably drive your selection, but don't underestimate the importance of texture. Heavier fabrics may read heavy in your space, whereas sheers and other lightweight fabrics may not give you as much weight or light and temperature control as you need.
Is privacy a concern in the space? Don't forget to look for fully lined drapes if you're buying them ready-made, or add a layer of lining if you're going custom and if drapes will be your primary window covering.
Color and pattern
The options when it comes to color and pattern are endless, especially if you're doing custom drapes. But even with ready-made versions, the choices are vast.
Looking to go neutral and extend your wall color? Maybe you'd rather introduce a secondary color for some punch. Either way, "Solid curtains give you many decorating options and leave considerable space for future modifications of accessories," said DÉCORLOVE. "They are a safe option when patterns have already been introduced as they provide the necessary balance."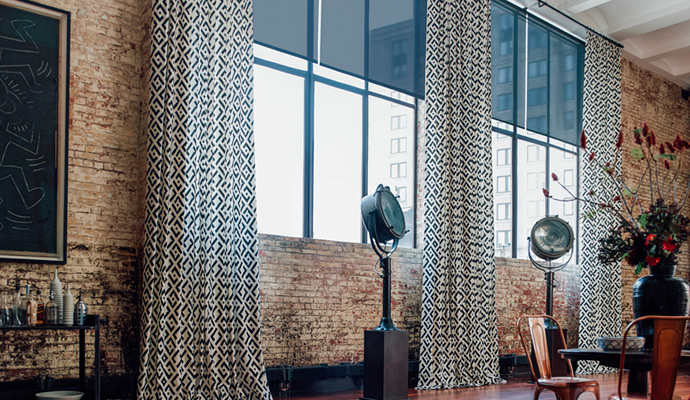 The Shade Store
But drapes can also become the accessories with the right pattern. Weave in a graphic pattern to add a layer that will help the room feel complex and fully finished.
"Large, graphic prints are daring but can look really amazing when their color relates to the existing décor," they said. "For a subtle touch of vibrance in light, airy rooms, go for small, neutral prints, like dots or florals. Medallions, trellises and arabesques suit a more traditional, elegant interior, while contemporary patterns such as stripes, chevrons, and geometric shapes bring a modern feel into a space. Vertical stripes are perfect for small rooms as they trick the eye into making a ceiling appear taller."
Hardware
Have you thought about how you're going to hang your drapes? The hardware can make a huge impact or it can disappear, depending on what you choose. "Basic metal or plastic curtain rods work behind the scenes. Larger-diameter wood or metal poles, usually capped by decorative finials, assume more prominent roles in window treatments," said Better Homes and Gardens.

Home Design Ideas
And then you need to consider whether you want clips or grommets or some other decorative way to hang the drapes from the rod. Their
Buying Guide
can help break down the options.